TELEVISION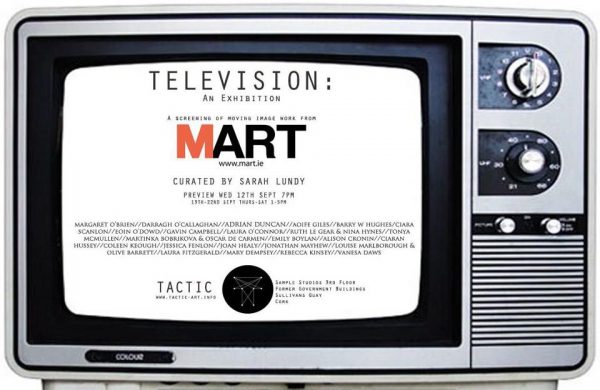 TELEVISION
curated by Sarah Lundy
at TACTIC CORK, 12th September 2012, 7pm / 3rd floor, Sample-Studios, Former Government Buildings, Sullivan's Quay, Cork
All works for Television were taken from the MART online archive www.mart.ie.
MART is an arts organisation with bases in Ireland and the UK. Their primary aim is to create a platform for New Media, Installation, Sculpture, Experimental Film, and Performance artists to showcase their work and provide an Art resource that is accessible, interesting and enjoyable to the public.
See www.tactic-art.info for exhibition information.
Margaret O'Brien, Darragh O'Callaghan, Lorraine Neeson, Adrian Duncan, Aoife Giles, Barry W Hughes, Ciara Scanlon, Eoin O'Dowd, Gavin Campbell, Laura O'Connor, Ruth Le Gear & Nina Hynes, Tonya McMullen, Martinka Bobrikova & Oscar de Carmen, Emily Boylan, Ciaran Hussy, Coleen Keough, Jessica Fenlon, Joan Healy, Jonathan Mayhew, Louise Marlborough & Olive Barrett, Laura Fitzgerald, Mary Dempsey, Rebecca Kinsey, Vanessa Daws